Lenten Coloring Page
Every mom, grandma, catechism teacher, babysitter knows that five minutes can feel like an hour when kids don't have anything productive to do. You are in the middle of making dinner or you are just about finished with catechism class and suddenly a burst of energy hits your kids! Unless you are thinking (and thinking fast!) you will most likely end up with running and/or crying kids on your hands…and the situation becomes 10x more stressful than it needs to be.
A great way to fill a few minutes of time is a coloring page! This page in particular – a Lent coloring page – is perfect because it's designed to spark curiosity and get kids thinking about Lent. Four small images are accompanied by corresponding Lent themes, Penance, Fasting, Abstinence, and Almsgiving. Coloring the images and reading the words give kids a chance to think about what they are sacrificing this Lent or maybe ask questions about this penitential time of year.
Click the image below to print the coloring page!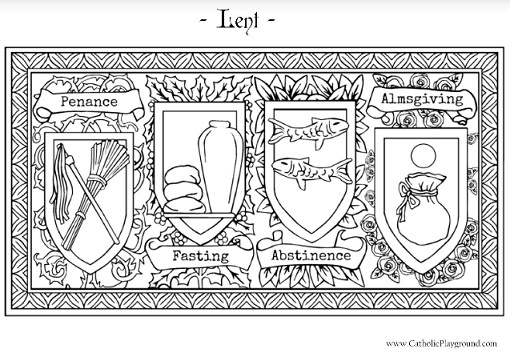 Looking for more like this? Check out our Lent coloring book for coloring images of Bible scenes.