Saints and Objects Matching Game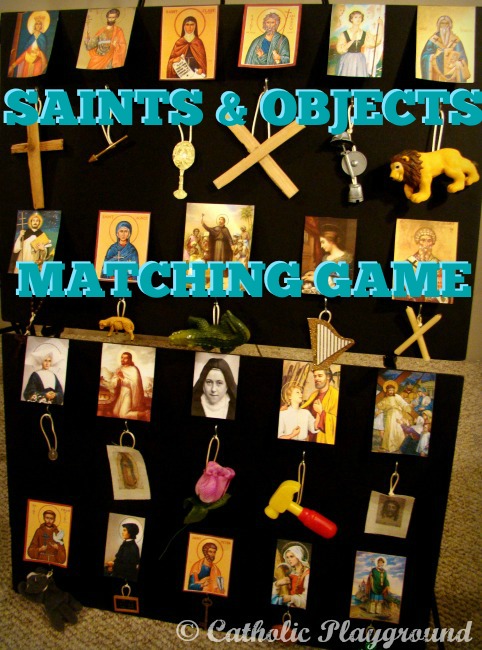 This is a fun All Saints' Day game for all ages to enjoy! It is also so easy to assemble.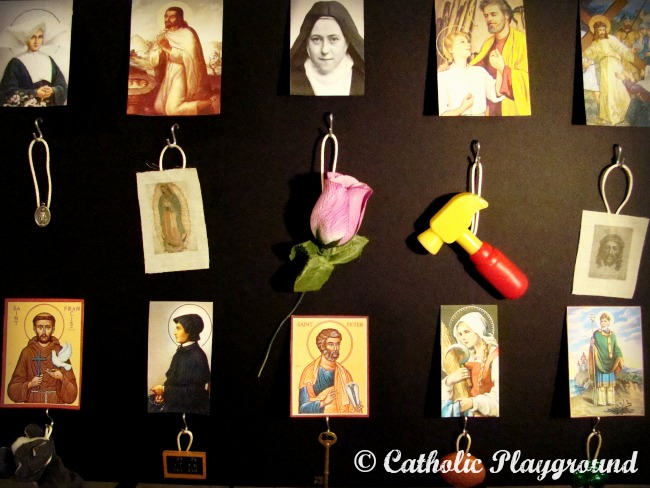 We used:
* black foam board
* string for hanging the objects
*"s" hooks
* color pictures of the saints-we specifically chose images of the saints that did not show their objects, to make the game a little more challenging
*objects associated with each of the saints
*pictures of these objects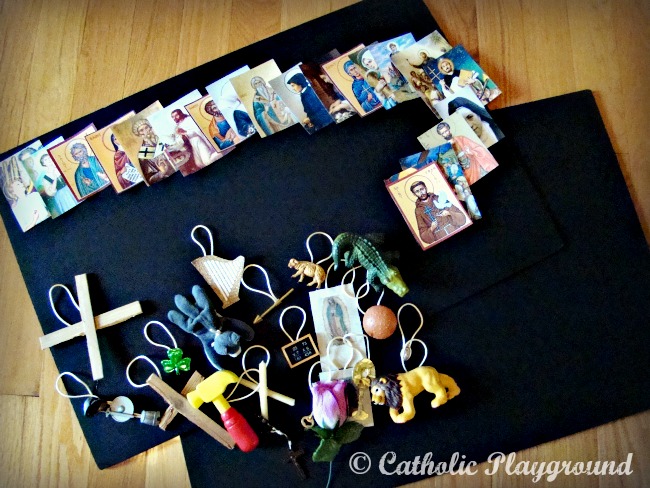 We attached the pictures with narrow strips of cardstock folded in half, gluing one half to the picture and the other to the board, creating a "hinge." Be sure to glue your cardstock to the very top of the back of your pictures so that the pictures can be flipped up to reveal the image on the back of each saint picture.  This image on the back will match the object for that saint.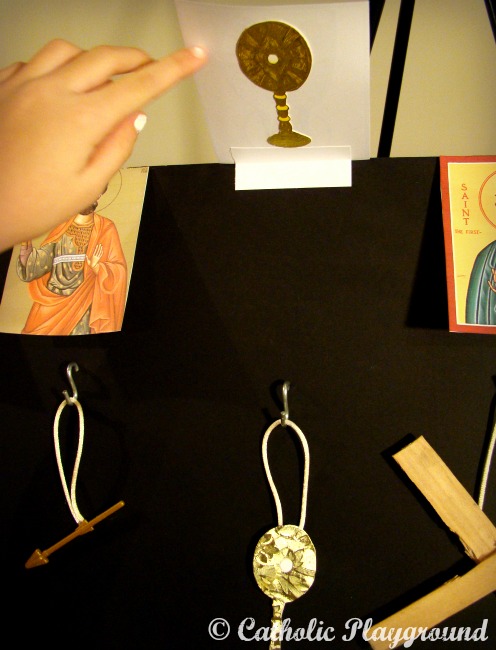 Below each picture, we poked small holes and slipped an s-hook in each hole for hanging objects.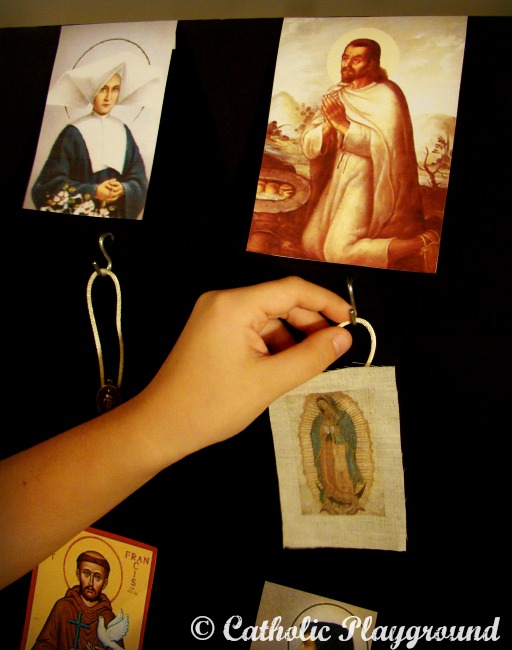 Best of all…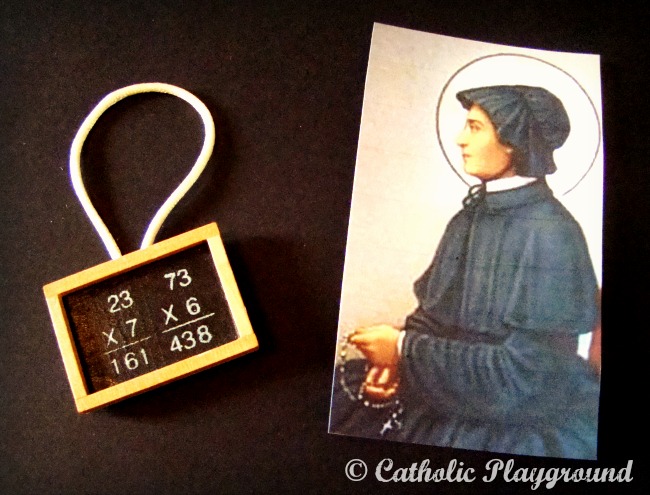 …we were able to create the game with objects we already had around the house.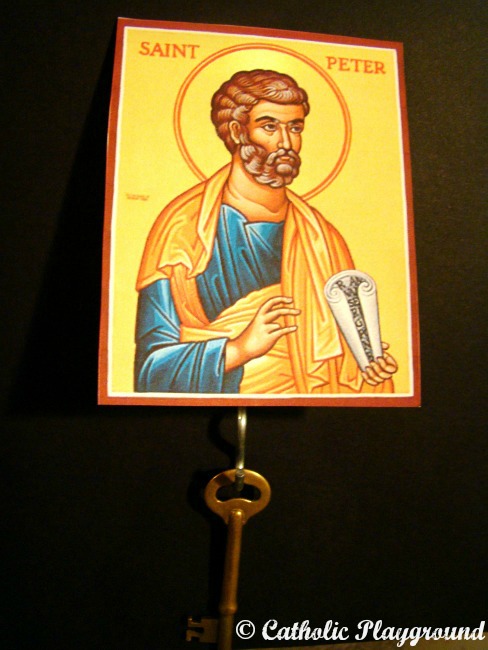 Use a little string or ribbon and hot glue to create loops on your objects for hanging.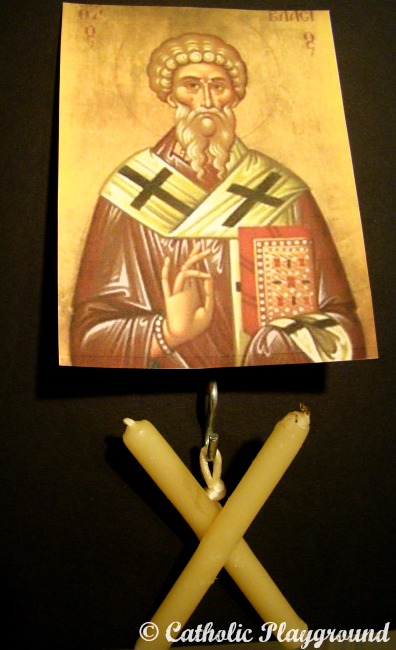 Here is a list of the saints and their objects we used: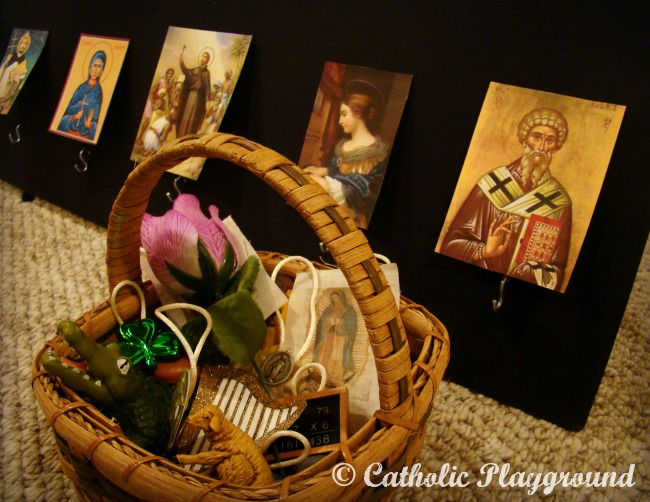 St. Agnes (lamb)
St. Andrew (X-shaped cross)
St. Blaise (two small candles crossed)
St. Catherine Laboure (miraculous medal)
St. Cecilia (harp)
St. Clare (monstrance)
St. Dominic (one decade rosary)
St. Elizabeth Ann Seton (chalkboard)
St. Francis of Assisi (wolf)
St. Francis Xavier (crocodile)
St. Helena (cross)
St. Ignatius of Antioch (lion)
St. Joan of Arc (armor, helmet, sword, and shield)
St. Juan Diego (tilma)
St. Joseph (hammer)
St. Longinus (spear)
St. Patrick (shamrock)
St. Peter (key)
St. Therese (rose)
St. Veronica (veil)
St. Zita (bread)
You can add or change the saints in your game based on items in your own home.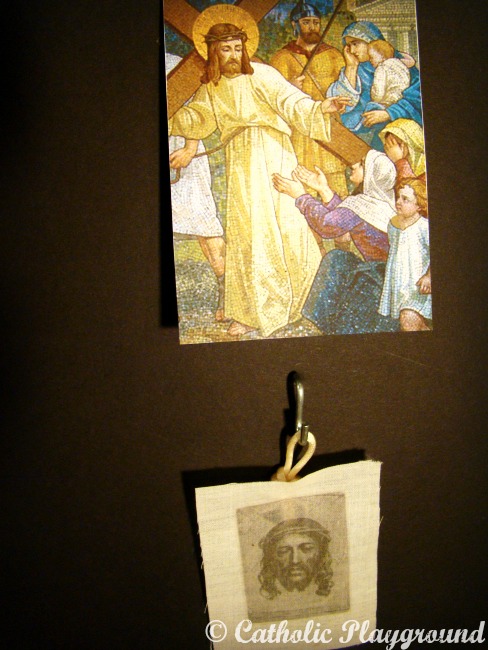 Underneath each picture of a saint, we put a picture of the correct object so that participants can "check" their matches.
Other ideas include labeling the pictures with the saints' names or including information about each saint, and how he/she is associated with each object, on the back of his/her picture.
What other saints and objects would you include in your game? Let us know in a comment below!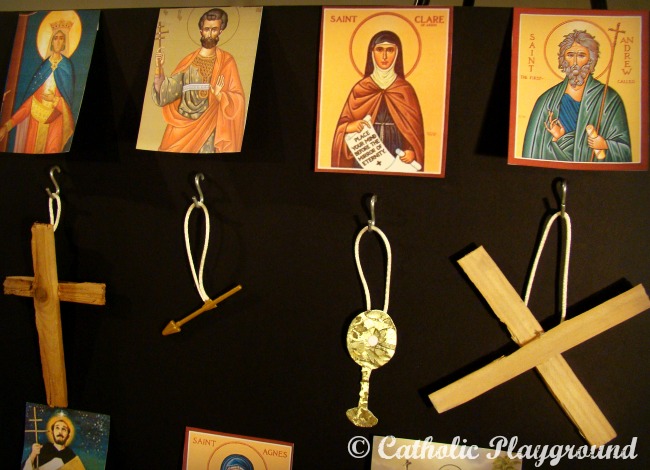 Happy Feast of All Saints!