Sacred Heart/Immaculate Heart Cookie
We recently made these Sacred Heart/Immaculate Heart cookies for a bake sale at church. They were fun and relatively easy to assemble— and we received lots of great comments on them! You'll want to frame these cookies when you're done, not eat them!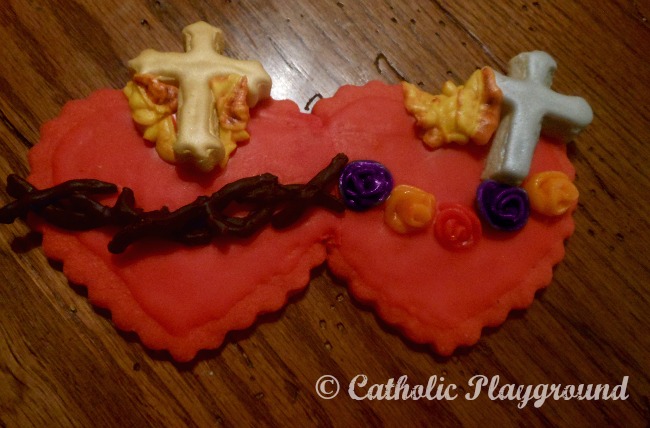 This is our "go-to" recipe for roll out cookies because they taste great and the dough requires no refrigeration.
1 cup butter
1 cup sugar
1 large egg
1 tsp vanilla
2 tsp baking powder
2 3/4 cups flour
Red food coloring
Preheat oven to 350 degrees. In a large bowl cream butter and sugar with an electric mixer. Beat in egg and vanilla.  Mix together baking powder and flour, add flour mixture one cup at a time, mixing after each addition.  Divide the dough into one large ball and one smaller (roughly 1/4 of the total dough).  Mix red food coloring into the larger ball until it is well distributed.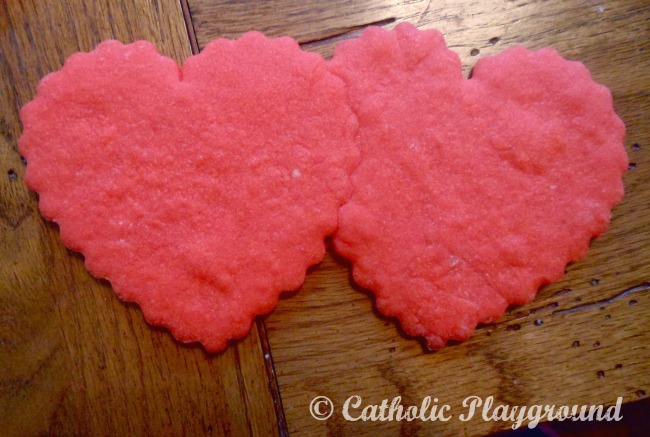 Roll out your red cookie dough out on a lightly floured surface. Cut out two hearts with your cookie cutter. Use the cookie cutter to cut a section of heart out of the cookie on the right, so that when you can push the cookies together, they will fit tightly and cook together while baking.
You can use the remaining uncolored dough to cut out small crosses.  We cut the ends off half of these and used them for swords for the Immaculate Heart.  Bake these on a separate baking sheet as they will cook more quickly than the hearts.
Bake cookies for 6-8 minutes or until they are not shiny anymore. [Hint: If possible use a dark baking sheet. The cookies tend to bake more quickly and retain their shape better with less spreading].  Let the cookies cool completely before removing from tray.
Once cooled you can frost the cookies with this icing that dries to a hard finish:
1 Tbsp milk
1 Tbsp light corn syrup
1 cup confectioners sugar
If the icing seems to thick to spread, you can alternate adding small amounts of milk and corn syrup until you achieve a good spreading consistency.  Frost all your crosses/swords with this icing.  You can then color the remaining icing red.  Do not frost your heart cookies until you have your decorations (crown of thorns, roses, and crosses) ready to place on the cookies.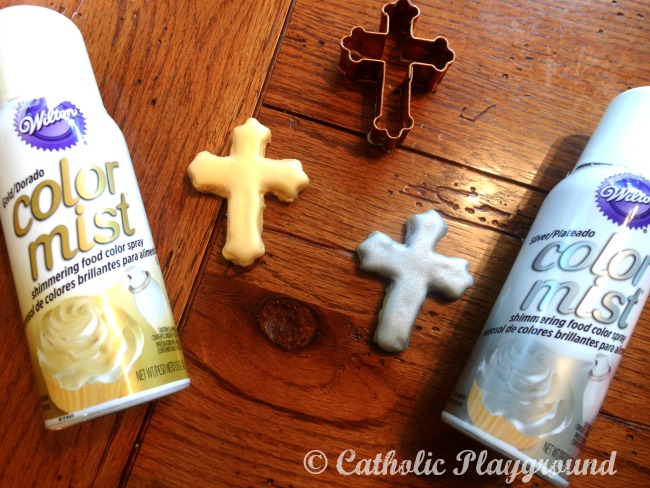 Once the frosting dried to a hard finish, we sprayed the swords/crosses with Wilton Color Mist (available at a local cake supply store), which gives a shiny gold and silver finish.   However, you could use yellow and gray food coloring for the crosses/swords if you wish.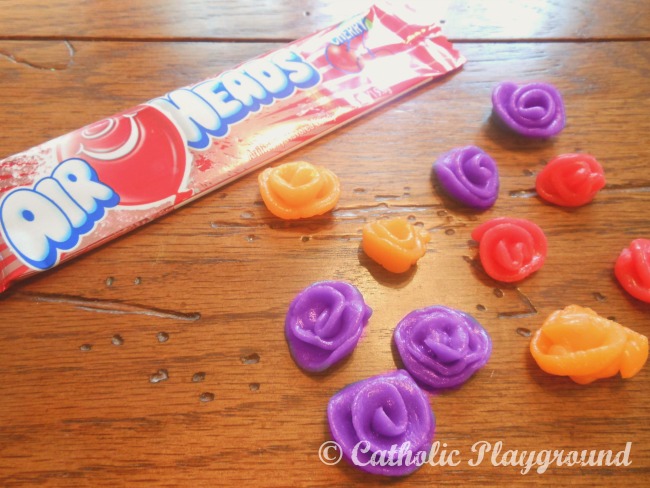 For the flowers, we rolled out Air Heads and cut them in thin strips.  We then rolled each strip into the shape of a rose.  Even our youngest siblings tried their hands at making these roses…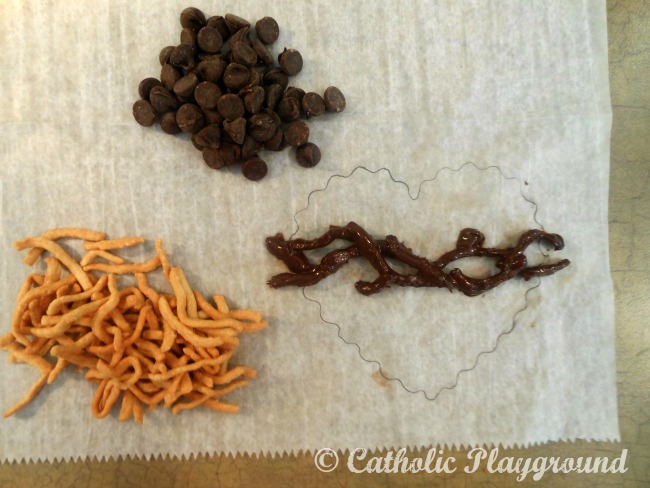 For the crown of thorns, used chow mein noodles and melted chocolate.  Trace your cookie cutter on a piece of wax paper.  Then dip your chow mein noodles in chocolate and place them across the heart shape on your paper.  As the chocolate hardens, your crown of thorns will dry in this shape and you will be able to easily transfer it to your cookie.
Once your crosses/swords are dry, roses are made and the crown of thorns set up, you can frost your heart cookies with red icing.  Immediately, place your decorations on the cookies, as in the photo below.
To finish, we created flames at the tops of the hearts using yellow frosting and  a large leaf tip. (If you don't have frosting bags and tips, you can create a similar look by using a Ziploc bag and cutting a sharp 'v' in one end).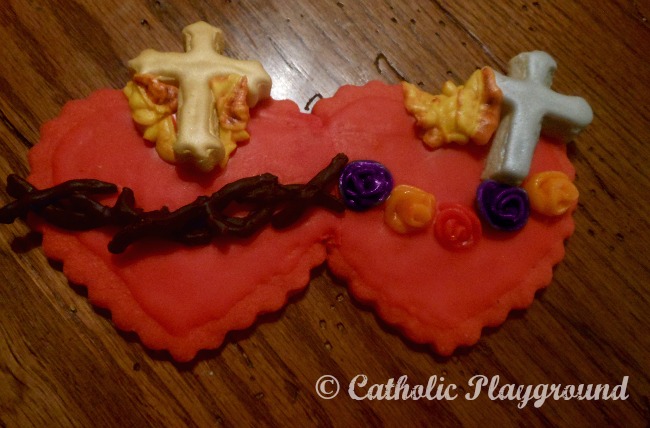 Sacred Heart of Jesus, have mercy on us!
Immaculate Heart of Mary, pray for us!