Paper church silhouette
We were reminiscing the other day about paper dolls- the kind where you fold your paper back and forth multiple times, cut out the top image of a person, and end up with an accordion-style row of attached identical people- and decided to apply that concept to make a Christmas craft.

The only supplies we used were:
card stock (we used gray)
tissue paper
a glue stick
tape
and the template for the church: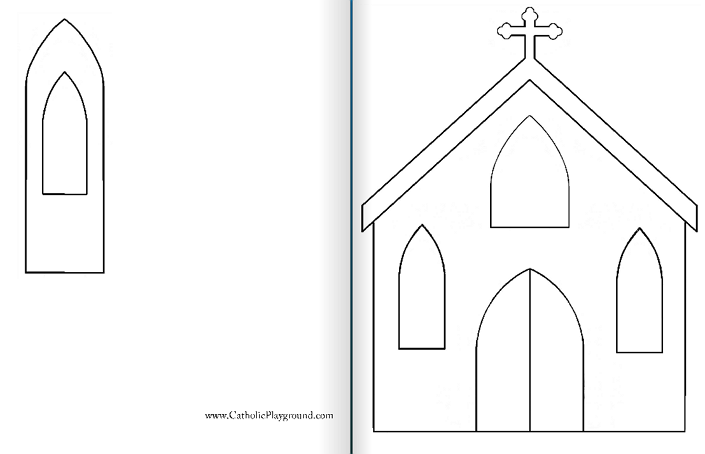 The front of the church will take up  an entire sheet of card stock.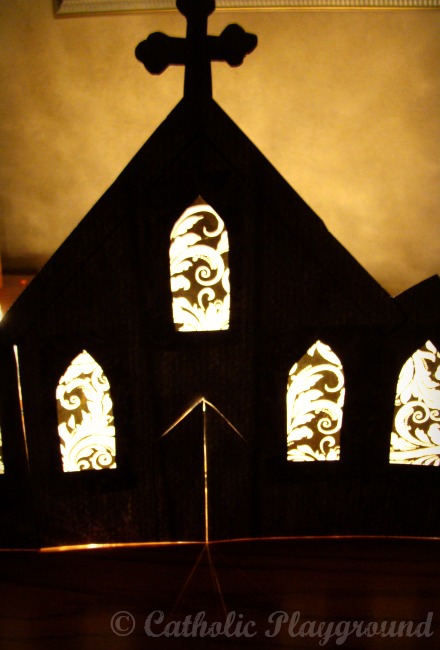 For the front of the church:
Cut out the outline, the inside of the windows, and then cut the line through the middle of the front doors and the top of the doors-leaving the sides of the doors attached.  This will allow light to shine through the front doors as well.
For the sides of the church:
Fold your cardstock back and forth the width of the panel that is  printed on your template.  Keep folding until you reach the edge of your paper.  If the last fold of your paper is a little longer than the rest, you can trim the extra off.  Then, cut out all the windows of the side walls.  We used the outline of the window on the first panel as a guide and cut through several folds at one time.
Then, tape your side walls to the main part of your church.  On the back side of your church, attach tissue paper over each window using a glue stick.
We put a string of lights behind our church, but you could also used another light source, such as  a night light or flameless candle.  The church looks beautiful at night with the lights shining through the "stained glass" windows.
 We liked it so much, we're thinking we just might add something more to our church ;)…