Paper Chain Advent Calendar
The purpose of Advent is to prepare our hearts for the birth of our Lord.  Here is a very simple and easy way to anticipate this beautiful solemnity!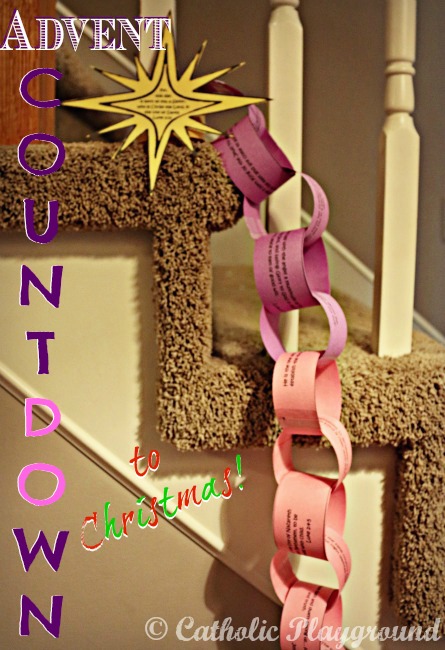 Paper chain countdowns are a big hit at our house!  It certainly adds to the anticipation of the Our Lord's birth when little ones wake up every morning and can remove a link from the chain. Seeing the chain get shorter every day makes it a very visual project (which means this craft is especially suited to younger children!)
To start the project, you will need to print five different pages.  We've separated the files into five different links so it's easy to keep them sorted.   You will want to print weeks 1, 2, and 4 on purple cardstock (or construction paper), week 3 on pink cardstock, and the Christmas day/star on gold or yellow cardstock.
Click here to print the Week 1 template.
Click here to print the Week 2 template.
Click here to print the Week 3 template.
Click here to print the Week 4 template.
Click here to print the Christmas day/star template.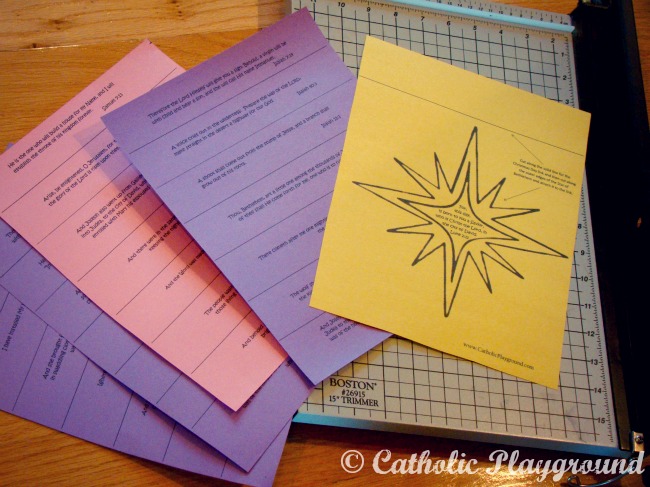 Cut along the long solid lines of the links and the outside solid line for the Christmas star.  Each link contains a Bible verse for meditation.  The earlier verses focus mostly on the prophecies regarding Christ's birth and the later weeks focus more on different aspects of the actual Nativity story, so we recommend keeping the pages separated out as found in the original templates.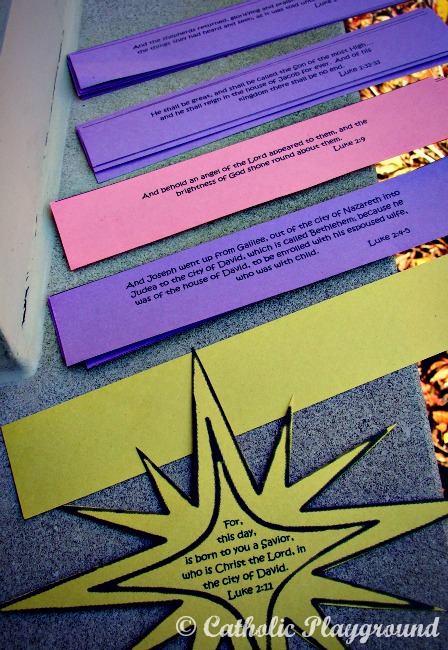 Using tape, staples, or glue, begin forming and connecting the links of your chain starting with the week one verses.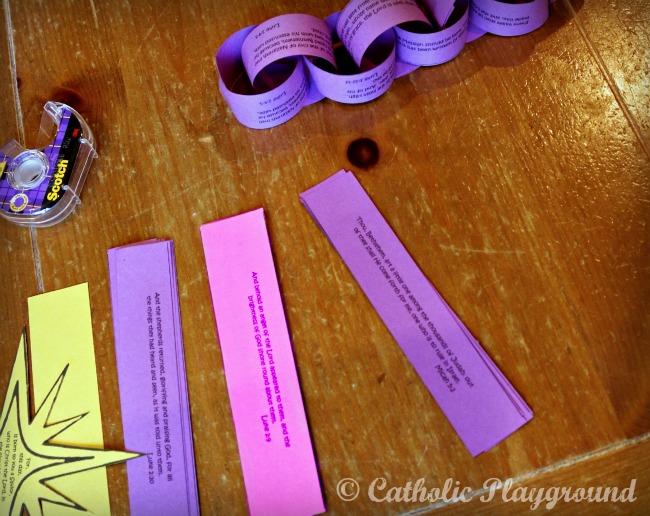 After that, add the week 2 verses, then the (pink) week 3 verses. Since the 4th week of Advent is not always a full week, you will need to check the calendar to see how many links you need. If, in week 4, there are 5 days before Christmas is on a Friday, use 5 purple links before attaching the final gold link for Christmas Day.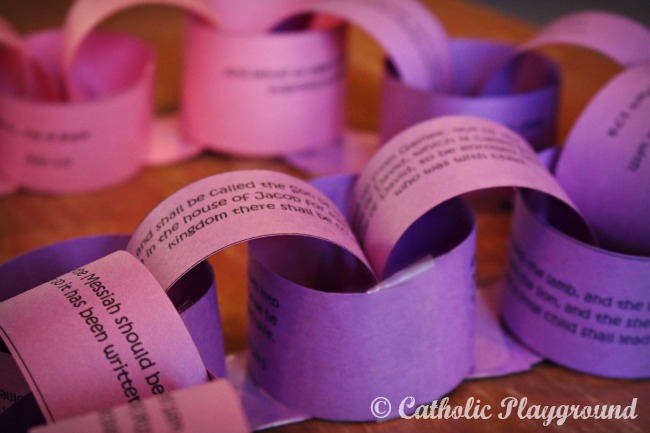 The gold link is blank because the Christmas star has the final verse for Christmas Day.   We attached the Christmas star directly to the last gold link.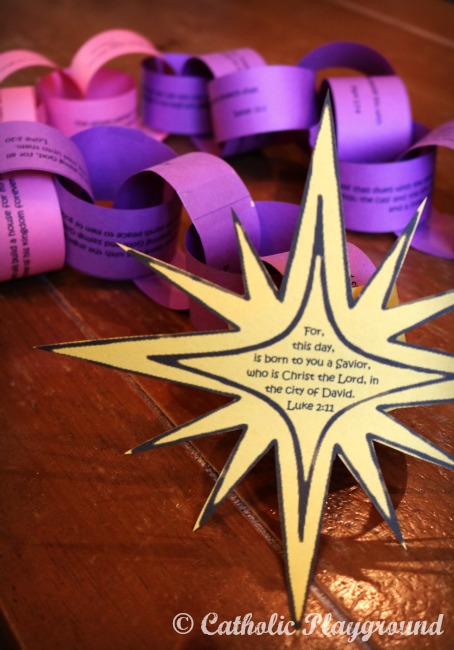 You can place the paper chain Advent anywhere in your home, school, or office….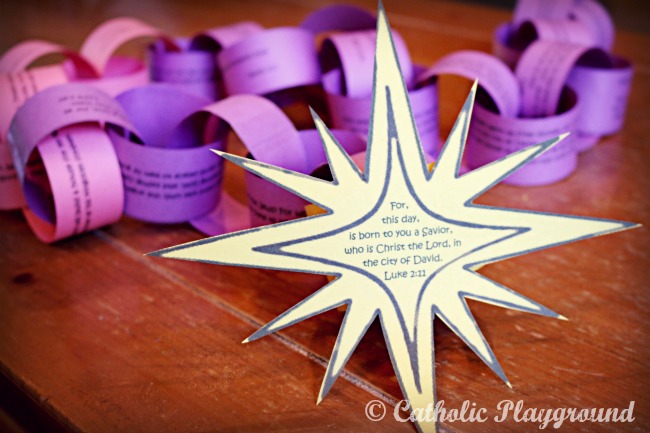 We attached the Advent chain to our staircase so it can hang freely.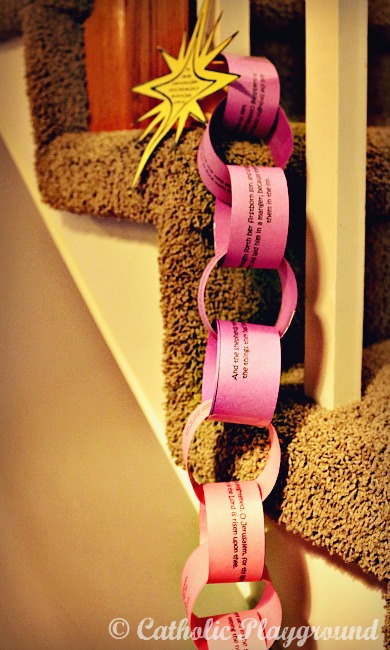 The staircase it also a good place because it's pretty central and everyone walks past the Advent calendar first thing in the morning.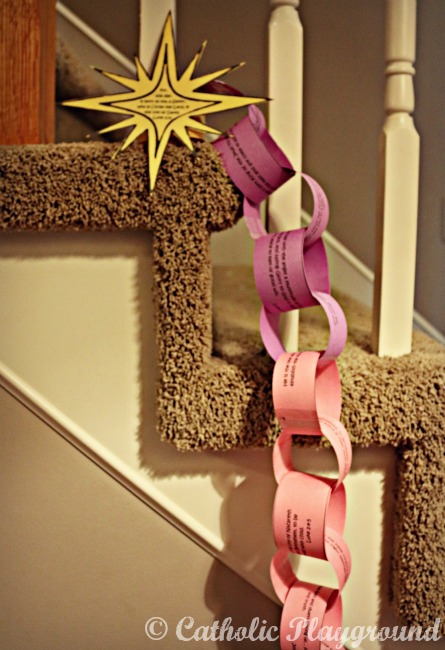 Does your family have a favorite way of counting down the days of Advent? Or have you incorporated the paper chain Advent calendar in your family or classroom traditions?  Leave us a comment below!