Pope John Paul II Coloring and Activity Book
When we heard that Pope John Paul II would be canonized this year (April 27th!) , we knew we wanted to do something BIG to celebrate.
Introducing….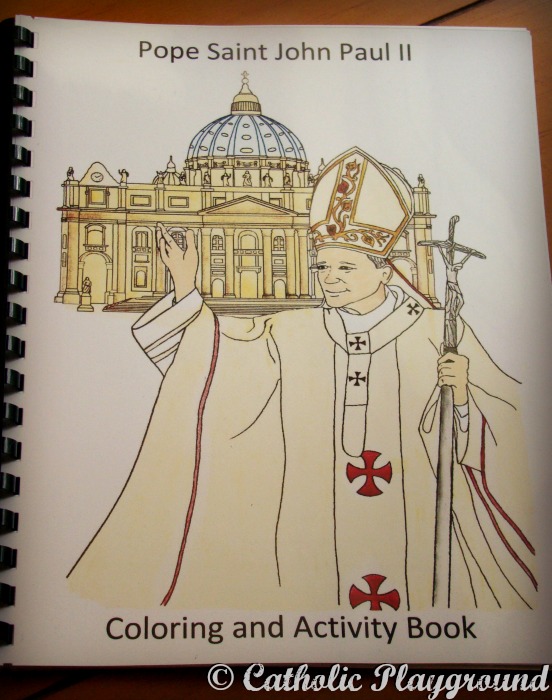 …our first coloring book!
The Pope Saint John Paul II Coloring and Activity Book is a full-length spiral-bound paperback featuring over 40 pages of coloring pages, dot-to-dots, word games, paper craft, mazes, look and finds, tracing pages, and so much more! Learn about young Karol Wojtyla's life and his journey to the papacy while exploring our Catholic faith!  Throughout the book are quotes from Pope John Paul II, as well as facts about not only his life, but also about Vatican City, Saint Peter's Square, Swiss Guards and more!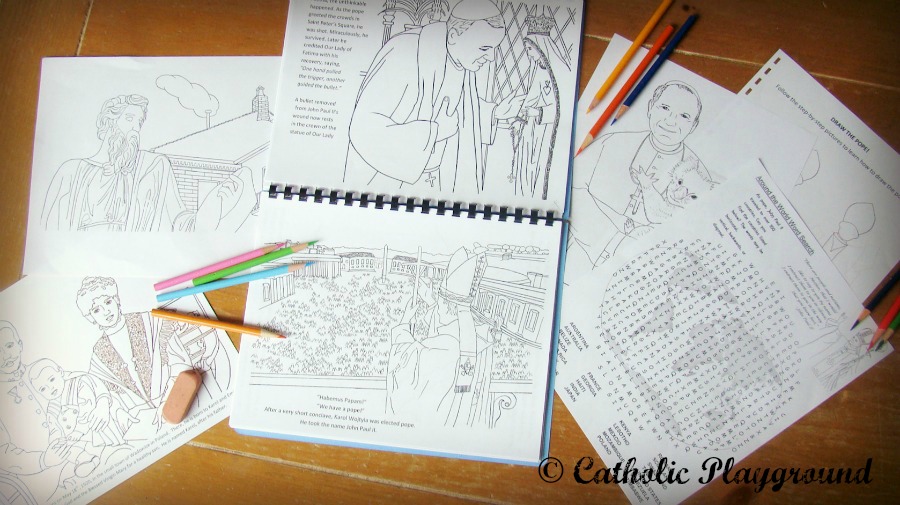 The Table of Contents includes:
1.  Sistine Chapel- White Smoke! coloring page
2.  Papal Symbols Look and Find
3.  Young Karol Wojtyla with his parents coloring page
4.  What's in a Name? word puzzle
5.  Karol Wojtyla as a child coloring page
6.  Young Karol with his mother and dog coloring
7.  First Holy Communion coloring page
8.  Dot-to-dot
9.  In his kayak coloring page
10.  In his military training uniform coloring
11. Father Wojtyla says his first Mass coloring
12. Use the grid to draw Cardinal Wojtyla
13. From  Poland to Vatican City map and dot-to-dot
14. Blessing the crowds in St. Peter's Square coloring
15. Italy dot-to-dot and Vatican City fact page
16. Vatican City maze and fact  page
17. Hidden Picture Puzzle
18. Papal Motto Puzzle
19. Coat of Arms Puzzle & Drawing
20  Pope John Paul II with Swiss Guards
21.  Swiss Guard Facts
22.  Swiss Guard Crossword Puzzle
23. Swiss Guard Color-by-Number
24. Pope John Paul II Visits Our Lady of Fatima coloring page
25. Build Pope John Paul II's Popemobile! papercraft
26. Dot-to-dot
27. Important landmarks in St. Peter's Square fact page
28. Locate the landmarks in St. Peter's Square activity page
29. Finish St. Peter's Basilica drawing page
30. Draw the Pope! activity page
31. Papal Palace of Castel Gandolfo coloring page
32. Around the World Word Search
33. Trace and Color Pope John Paul II
34. Pope John Paul II visits Mexico coloring page
35. In Poland coloring page
36. Mass in Washington, D.C. coloring page
37. On a visit to Australia tracing and coloring page
38. With Mother Teresa tracing and coloring page
39. Important Places Crossword Puzzle
40. Pope John Paul II in Vatican Gardens coloring page
Our book contains 40 ALL NEW coloring pages from Catholic Playground that cannot be found anywhere else.  This beautiful book would make a great gift or keepsake to commemorate the canonization of one of the most beloved popes of all time!
And best of all, we are offering our coloring book for only $12.00 USD!