Saint Andrew Christmas Novena

Hail and blessed be the hour and moment in which the Son of God was born of the most pure Virgin Mary, at midnight, in Bethlehem, in piercing cold. In that hour, vouchsafe, O my God! to hear my prayer and grant my desires, through the merits of Our Saviour Jesus Christ, and of His Blessed Mother. Amen.
Imprimatur
+MICHAEL AUGUSTINE, Archbishop of New York
New York, February 6, 1897
Click the image below to print the image for the template. Be sure your printer is set to print double-sided.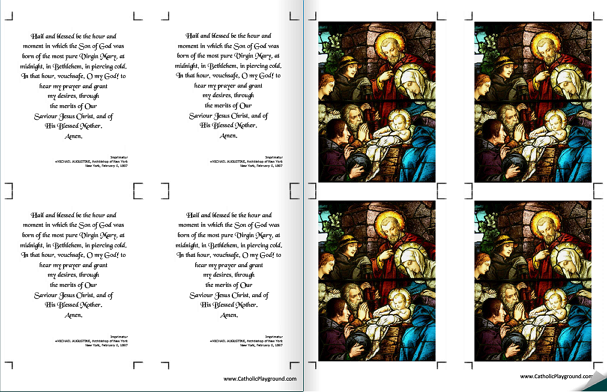 Like his brother Simon Peter, Saint Andrew was a fisherman. After Christ instituted the Church, Saint Andrew, like all the other apostles, died a martyr's death. He was tied to a cross, requesting an X-shaped cross. Saint Andrew believed he was not worthy to die on a cross like the one on which Christ was crucified. Tradition tells us that St. Andrew continued to preach for days from this cross. The X-shaped cross is now known as a "Saint Andrew's cross." Saint Andrew is the patron saint of Scotland; his cross is on the country's flag.
The Saint Andrew Christmas Novena begins on November 30th, Saint Andrew's feast day.
Although the novena begins on his feast day, it is not actually a novena to St. Andrew, but to God- asking that he grant our request in honor of the birth of His Son at Christmas. Though a novena is typically a nine-day prayer, the Saint Andrew Christmas Novena, or simply the "Christmas Novena," is prayed 15 times every day from the Feast of Saint Andrew the Apostle (November 30) until Christmas.
The prayer can be said all 15 times at once or divided up as necessary- perhaps five times at each meal.
Prayed as a family, the Saint Andrew Christmas Novena is a beautiful way to focus our attention on the Advent season.