Juan Diego & Our Lady of Guadalupe tilma craft
"Go up, my dearest son, to the top of the hill, to where you saw me and … you will find different kinds of flowers…then come down here and bring them before me."
"My youngest and dearest son, these different kinds of flowers are the proof, the sign that you will take to the Bishop. You will tell him from me that he is to see in them my desire, and therefore he is to carry out my wish, my will. And you, who are my messenger, in you I place my absolute trust. I strictly order you not to unfold your tilma or reveal its contents until you are in his presence."
-the words of Our Lady of Guadalupe to Juan Diego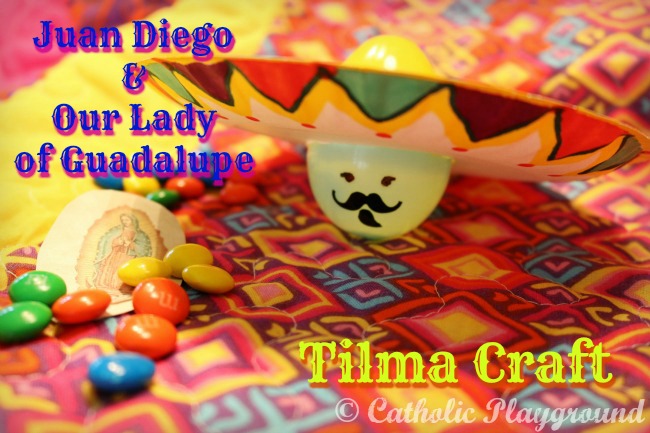 Using plastic eggs, small white paper plates and a few Sharpie markers, we created this Juan Diego craft.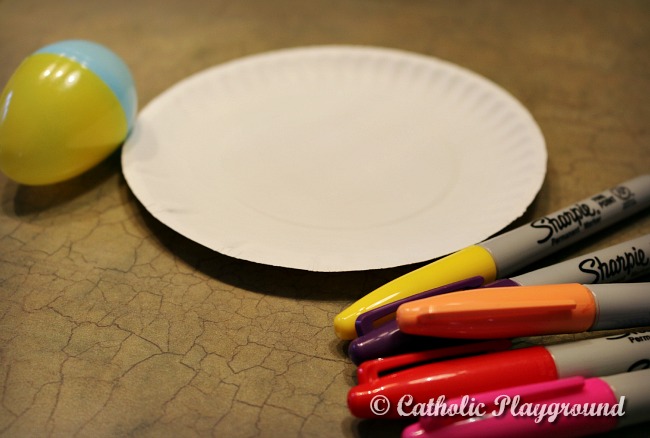 For this craft, we used a 6 inch white paper plate.We then snapped together plastic Easter eggs, fitting them together so that the tops and bottoms of the eggs were different colors.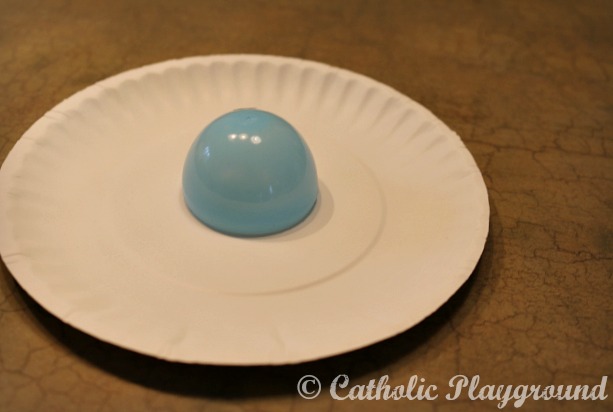 Take the egg apart and place it in the center of your paper plate. Using a pencil, trace around the egg shape.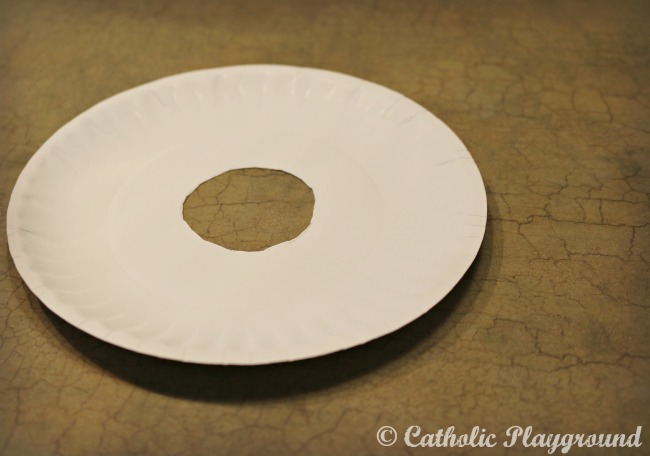 Then, cut around the egg just inside the circle (close to the circle but not on it). You will want the paper plate sombrero to fit snugly back over the egg.
Turn the paper plate over and color a decorative design along the bottom edge of  your "sombrero" using permanent markers-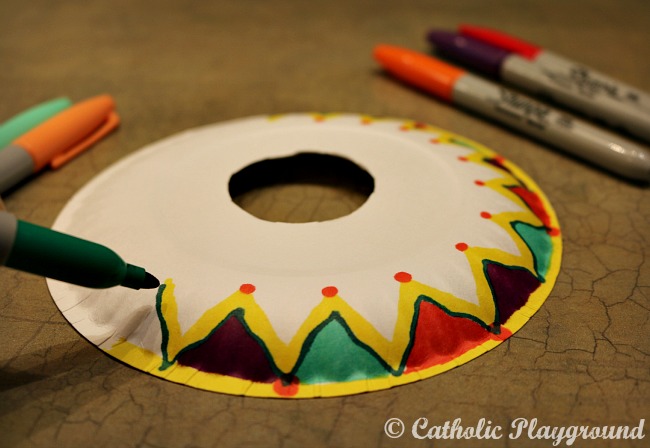 Then, put a face on the bottom of your egg.  We drew the eyes with permanent marker.  We also had some mustache stickers we applied, but permanent markers will work fine as well.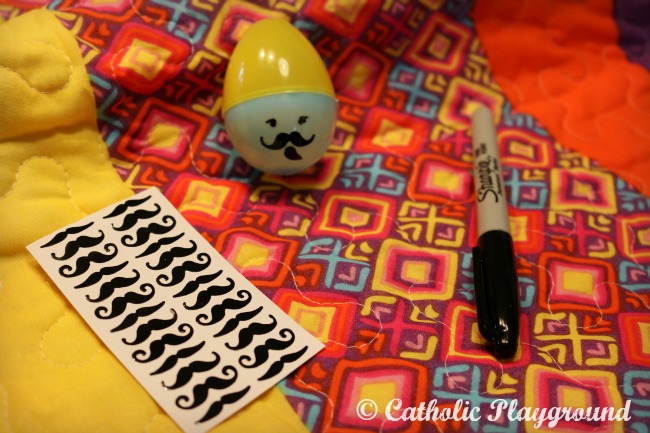 Print the Catholic Playground template of the tilma of Our Lady of Guadalupe.
Fill the egg with small treats…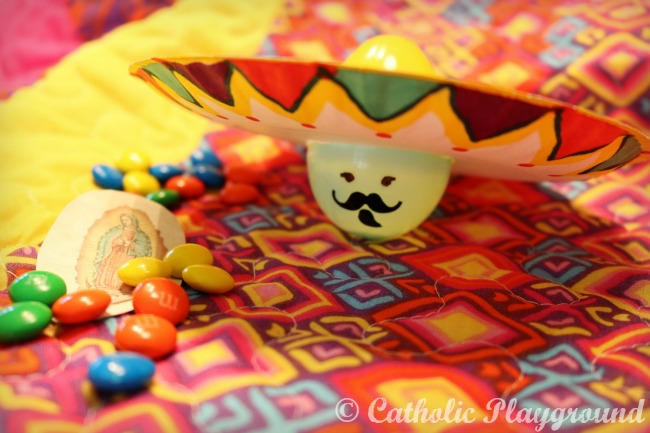 and the image of Our Lady of Guadalupe.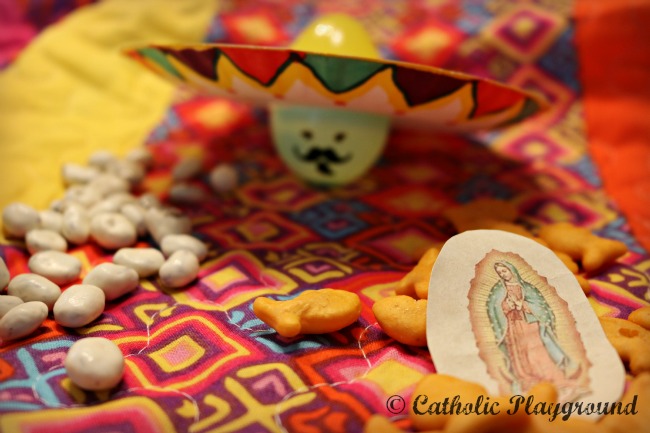 In front of the bishop, Juan Diego unfolded his white cloth where he had the flowers, and when all the different varieties of roses scattered on the floor, there suddenly appeared the drawing of the precious image of Our Lady of Guadalupe – the Holy Mother of God.
When the Bishop saw the image, he and all who were present fell to their knees.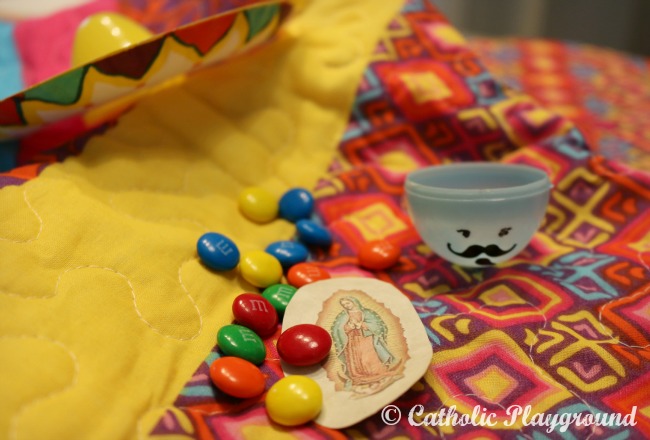 Our Lady of Guadalupe, pray for us.
Saint Juan Diego, pray for us.