Edible Rosary
"If there were one million families praying the Rosary every day, the entire world would be saved."
-Pope St. Pius X


This edible rosary, in honor of the month of the Holy Rosary, was created from 3 ingredient oreo truffles and a bit of string licorice as follows:
16 oz. oreo or other "sandwich" cookies (we used mint oreos)
8 oz. cream cheese
chocolate for dipping (You can really use any chocolate for covering the truffles. We chose Ghirardelli white chocolate chips because we wanted to create a "marble" effect)
First, crush cookies completely. We found a blender the easiest way to do this.


Next, mix the cream cheese in with the crushed cookies, then form the mixture into 59 balls. Use some of the mixture to form a medal and a crucifix.

Freeze the truffles for 10-15 minutes. This will make them easier to dip. You can melt your chocolate in the microwave on the defrost setting or in a sauce pan on the stove on very low heat. Stir  constantly until just melted and DO NOT OVERHEAT.


You can add any food coloring to the melted chocolate. We swirled purple and green food coloring through the white chocolate to create this effect: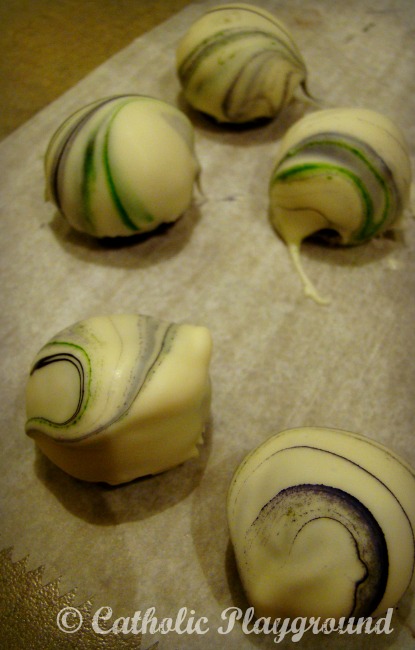 Once the chocolate sets up, you can put the "rosary" together. String licorice between the beads serves as the chain…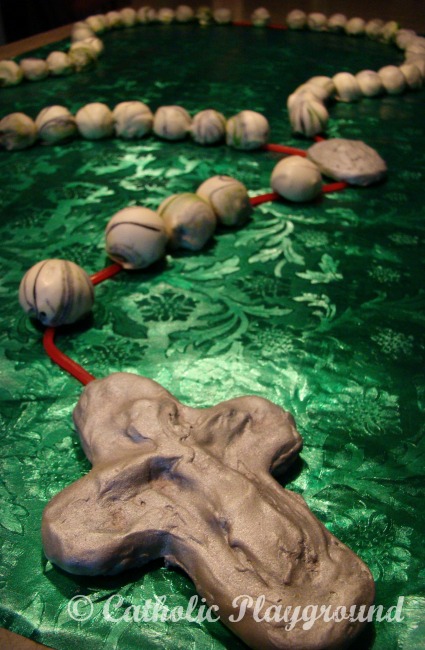 We covered our medal and crucifix with silver food coloring…


…and assembled our rosary!