Queenship of Mary cookies – printable template and recipes!
Blessed Virgin Mary – Queen of Heaven and Earth

Though ecclesial references to the royal dignity of Mary can be traced back as far as the Council of Ephesus in 431, the Feast of the Queenship of Mary was not established until 1954. Prior to this, in 1925, Pope Pius XI established the liturgical feast of Christ the King.  Later, Pope Pius XII proclaimed Mary's parallel, though subordinate, royal dignity in the establishment of the Feast of the Queenship of Mary in the encyclical letter Ad Coeli Reginam.
On the traditional calendar, this feast is celebrated on May 31st. With the liturgical reforms of the second Vatican Council, the new calendar recognizes this feast on August 22nd, as a festive prolongation of the Feast of Mary's Assumption on the 15th.
Honor the Queen of Heaven and earth with jeweled crown cookies!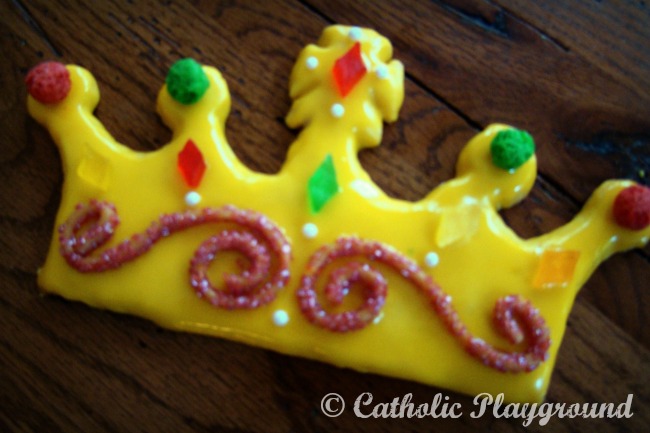 Though it is possible to find crown cookie cutters online or from a cake supply store, we created these crown cookies using this free printable template.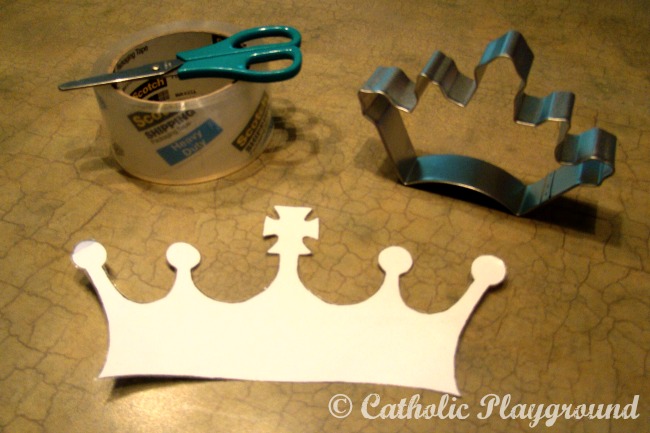 Print the template on cardstock or heavy paper. After cutting it out, we like to cover the template in clear packing tape so that it can be wiped clean. For a great sugar cookie dough that doesn't need to be refrigerated before rolling, we always use the following recipe:
1 cup butter
1 cup sugar
1 large egg
1 tsp vanilla
2 tsps baking powder
2 3/4 cups flour
Preheat oven to 350 degrees. In a large bowl cream butter and sugar with an electric mixer. Beat in egg and vanilla. Mix baking powder and flour, add flour mixture one cup at a time, mixing after each addition. The dough may be stiff. (It is best to use a large or extra large egg for this recipe). Do not chill dough.
Roll out your cookie dough out on a lightly floured surface and trace the template onto the dough.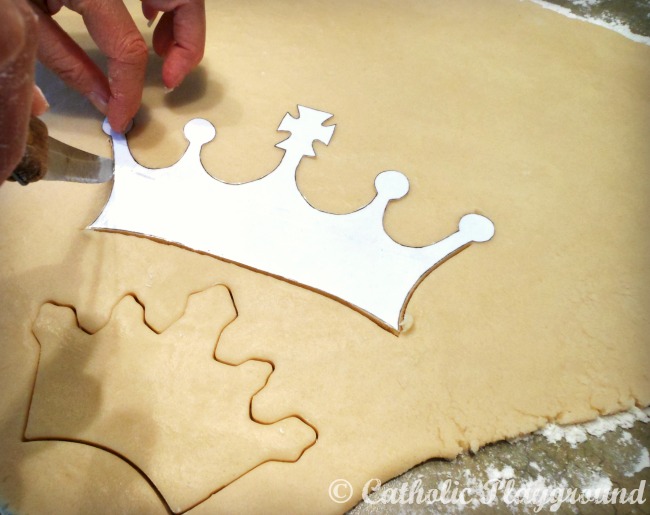 Transfer your dough crowns to a cookie sheet (no need to grease). This is a large cookie and may slightly lose its shape when transferring to the cookie sheet. If so, just place your template on the dough crowns as a guide to reposition the dough. [Hint: If possible use a dark baking sheet. The cookies tend to bake more quickly and retain their shape better with less spreading]. Bake cookies for 6-8 minutes or until they are not shiny anymore. Let the cookies cool completely before removing from tray.
Once cooled you can frost the cookies with this icing that dries to a hard finish:
1 Tbsp milk
1 Tbsp light corn syrup
1 cup confectioners sugar
Yellow food coloring
If the icing seems to thick to spread, you can alternate adding small amounts of milk and corn syrup until you achieve a good spreading consistency.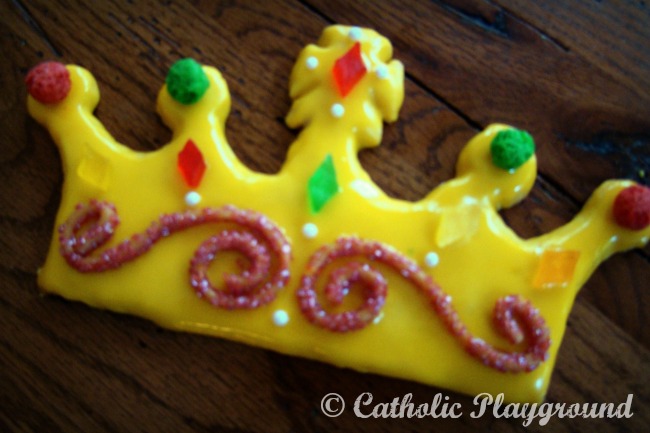 You will want to decorate your cookies while the icing is still wet. That way, the icing will dry and keep the decorations in place.
We made much of our decorations from regular grocery store fare…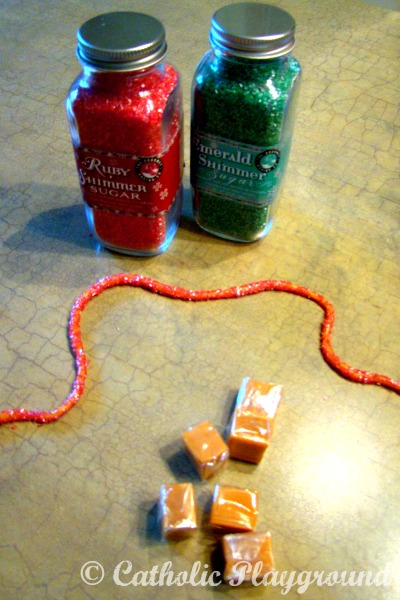 …caramels rolled out and dipped in colored sugar,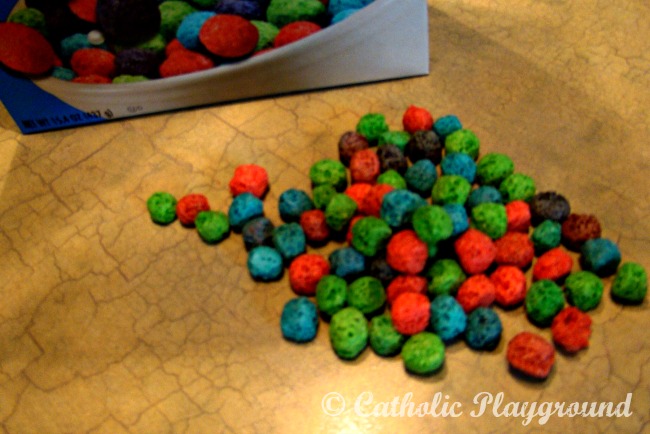 colorful cereal,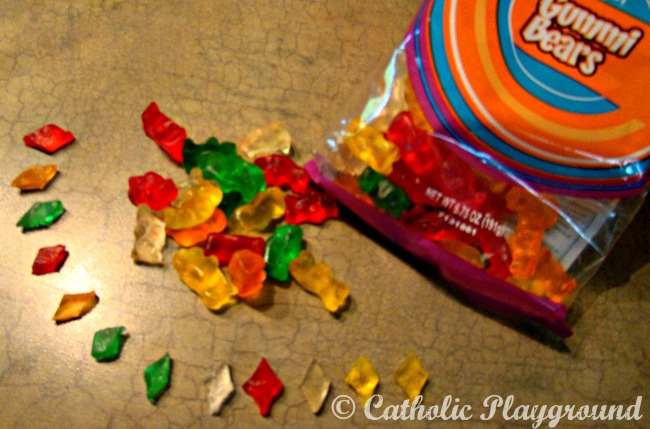 and gummi bears cut into diamond shapes.

Our younger siblings had a great time decorating their crowns…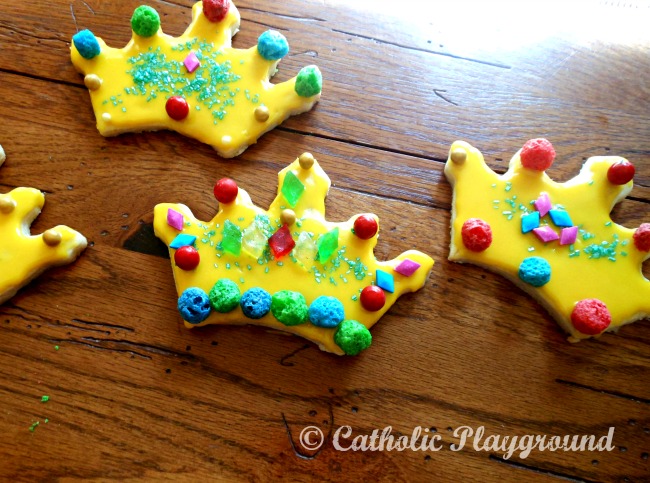 …and were thrilled with the way they turned out!
(For a true gold finish, we also made a few cookies which, once the icing hardened, we were able to spray with a gold food coloring [Wilton Color Mist]we found at a cake supply store. We also found other edible embellishments there, such as candy pearls and other pearlized decorations)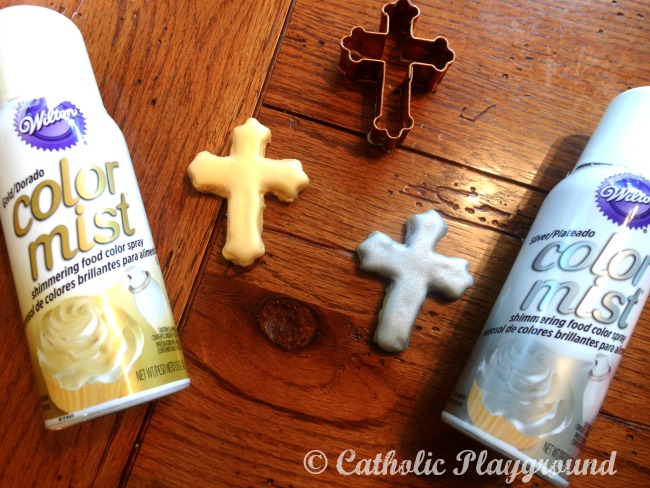 [Cross cookies using Wilton Spray Mist used on our Sacred Heart/Immaculate Heart cookies]
What fun ways did you use to decorate your crowns? Leave us a comment and let us know!