Christmas Party House Gift: Giving the Gifts of the Magi
Next time you head to (or host) a Christmas party, you can put a fun, Catholic flair on the traditional house gift: edible gold, frankincense, and myrrh!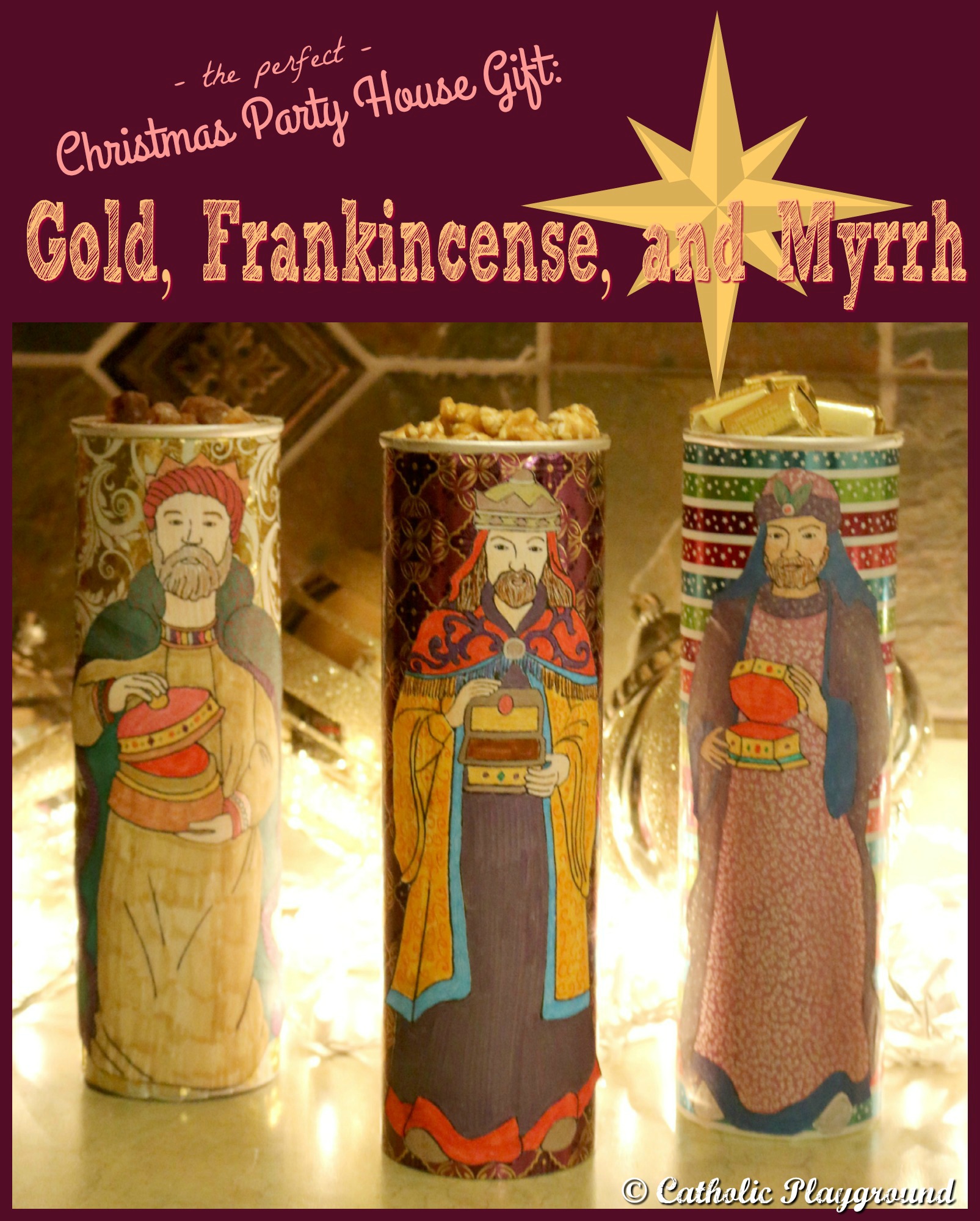 If you search around online, you can find small boxes or gift bags of gold, frankincense, and myrrh available for purchase.  This is such a great idea for teaching young kids about the Magi's gifts, but we thought, "Why not take it one step further?"
This project is very hands-on and is great for any age.  Each "gift" is a great Christmas party food:  the gold is Hershey's Nuggets (chocolate), the frankincense is caramel corn, and the myrrh is dried mixed fruit.
All ages can help with this craft and it certainly has the cute factor at parties or family gatherings. 🙂
For this project you will need:
3 empty Pringles cans, with lids
wrapping paper, gift wrapping supplies
dried fruit
confectioner's sugar
caramel corn
3-4 bags of Hershey's Nuggets, Milk Chocolate with Almonds  (we used chocolate with almonds because the wrappers are all gold, but Hershey's also makes Nuggets without nuts for any houses/classrooms with allergies)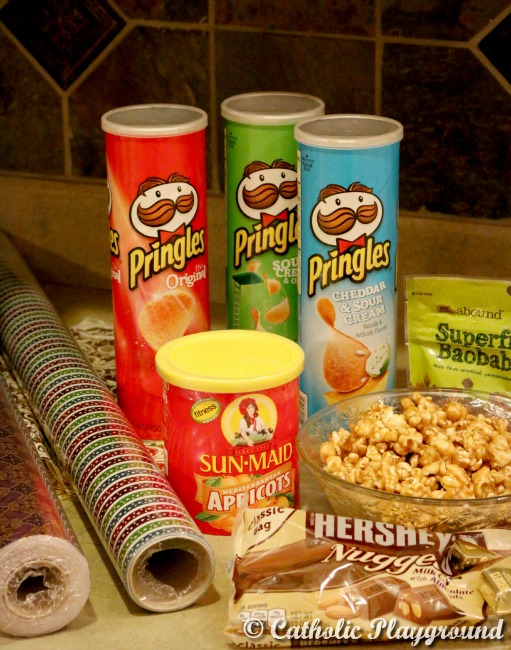 A full sized Pringles can is almost exactly 9½" by 9½"  (who would have guessed a Pringles can laid out flat would be a square?? 😉 ) so we used a ruler and cut a 9 ½" by 9 ½" square out of wrapping paper.
You will need three of these squares.  We wanted each Pringles can to look unique so we used a second type of wrapping paper for the second can and used patterned tissue paper for the third.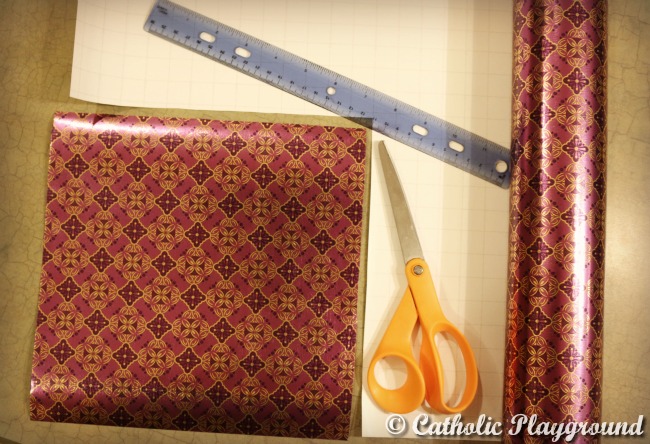 Tape the wrapping paper or tissue paper onto a clean Pringles can.  (To clean the can, we simply rinsed it with water and dried it very thoroughly.)  We used gift wrap Scotch tape because it doesn't show up on top of the wrapping paper.  Elmer's glue or a glue stick would be a good alternative if gift wrap tape isn't an option.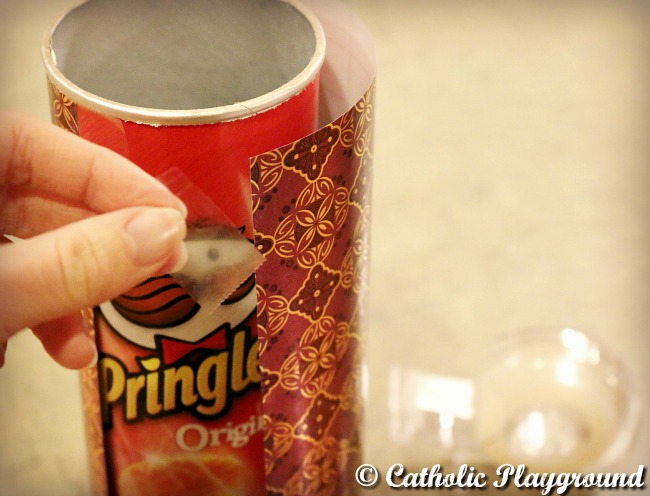 For the "myrrh", you can use any type of dried fruit that you'd like.  Myrrh is a resin that comes from certain thorny trees native to the Middle East and parts of Africa.
Myrrh tends to be darker in color so we used dried Baobab.  And it worked out perfectly for us – it was available at the closest grocery store, it comes pre-diced, and it's got some pretty amazing health benefits. 🙂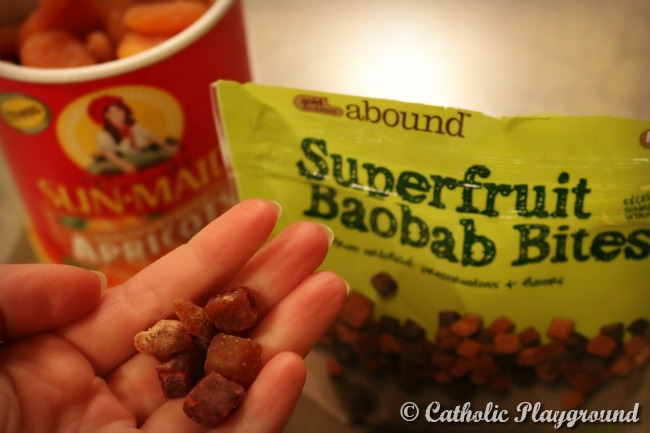 We also mixed in dried apricots for more variation in color and flavor.  The apricots  had been dried whole so it did require being cut into small chunks first.
If you've never seen myrrh, you can find pictures of it all over the internet.  It tends to have a white chalky texture to it.  To make our "myrrh" look as realistic as possible, we took a small handful of dried fruit and rolled it in powdered sugar.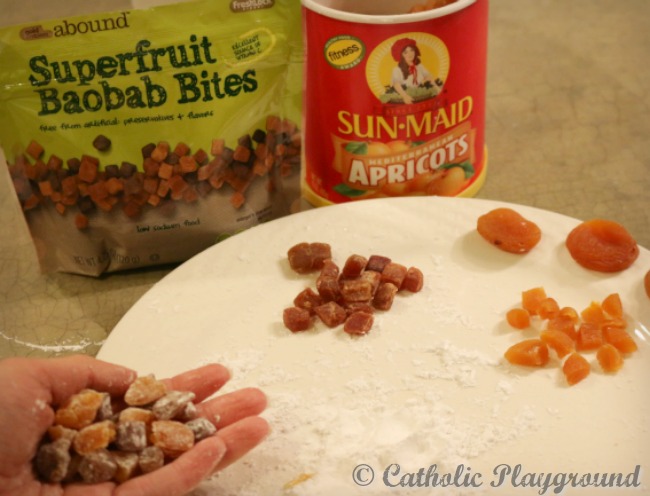 You can see the before and after pictures of this step below.  The sugared fruit definitely looks more like resin!  (And tastes sweeter too!)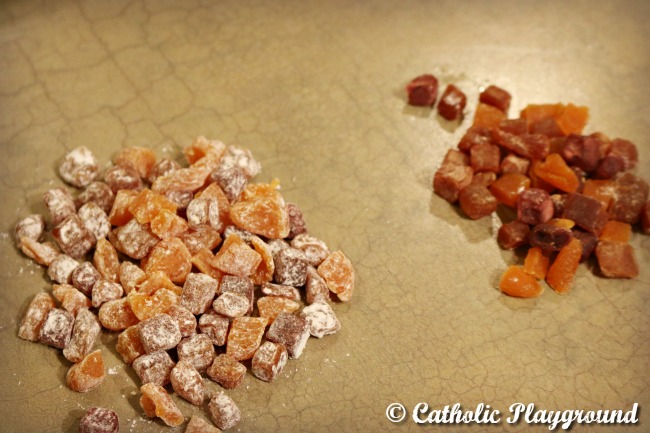 The "gold" and the "frankincense" are somewhat easier….
Frankincense, like myrrh, is also resin and is harvested in Somalia, Ethiopia, and Southern Arabia.  One of the most common uses for frankincense is incense for the Mass. 🙂
 We made a batch of caramel corn for the "frankincense".  Caramel corn resembles frankincense more closely when it's in smaller pieces so we broke the bigger pieces of popcorn into smaller chunks.   If you are pressed for time, caramel corn is very easy to find in stores at this time of year!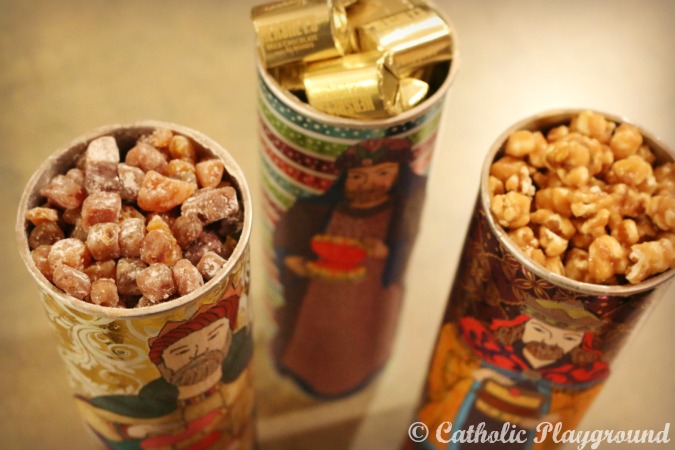 The last Pringles can is for the "gold".  Gold is a chemical element and we know best in its purest form, metal.  Gold is mined in many countries all over the world.   We used Hershey's Nuggets with Almonds for our "gold" because the entire wrapper is gold – even the text.  However, Hershey's does make solid milk (or dark) chocolate in gold wrappers so that's a great nut-free option for anyone with allergies.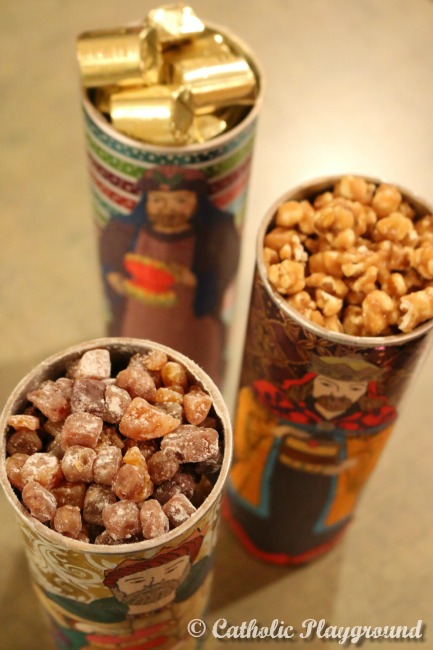 For the finishing touch, print the wise men template, color the images, cut along the outer edges, and glue them to the outside of the wrapped Pringles cans. Click here for the template or click the image below.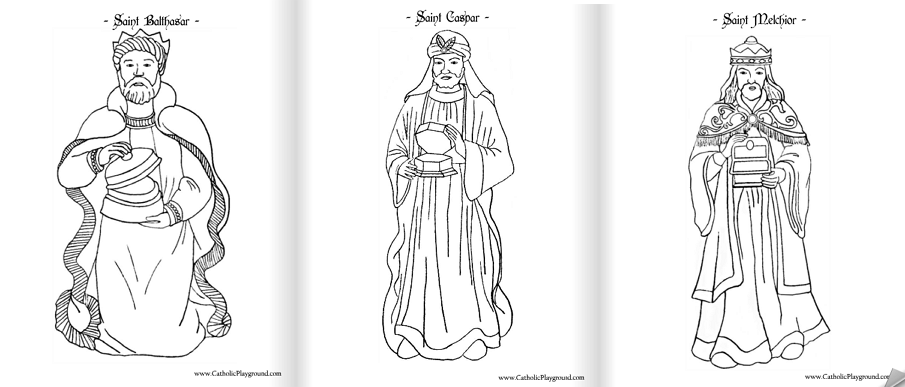 Have you tried this project at home?  Or do you have a favorite way to learn about the three kings?  Leave a comment below!