Heart Calzones for Saint Valentine's Day
Try making this fun calzone for Saint Valentine's Day and filling with your family's favorite pizza toppings. Even younger children will be able to help with many of the steps.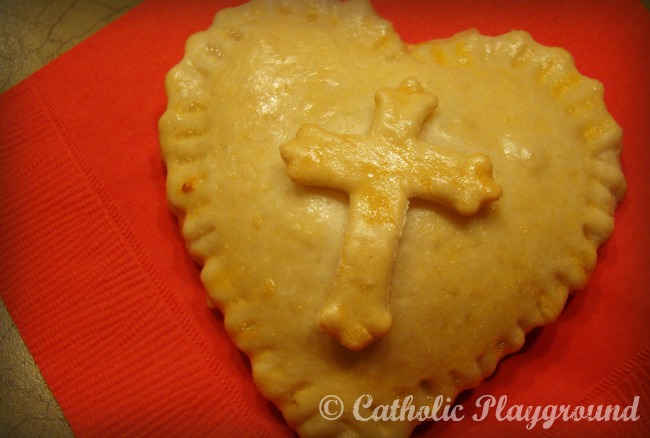 For the dough, we use this simple pizza crust recipe:
2 1/2 – 3 cups flour
2 1/4 tsp yeast
1 tsp salt
1 cup warm water
2 Tbsp oil
In a large bowl, combine 1 cup flour, yeast and salt. Stir in warm water and oil. Beat at low speed with hand mixer for 30 seconds. At this point, we add the remaining flour and use the dough hook attachment on our hand mixer to continuing mixing until the dough is smooth and elastic-about 2-3 minutes. (You can also continue to stir in the remaining flour in with a spoon, then knead the dough by hand until dough is smooth, about 5 or 6 minutes). Place dough in greased bowl, cover, and place bowl in warm place until dough doubles in size (about an hour). Punch down the dough, cover, and let rest 10 minutes.
Then, place your dough on a lightly floured surface and roll it out very thin.  We then cut out hearts and crosses with our cookie cutters.  You will need two hearts for each calzone.  Place  hearts on a baking sheet, and top with your favorite pizza ingredients.  We brushed these with oil, sprinkled on a garlic and herb seasoning and parmesan cheese and topped with mozzarella cheese.  Do not fill all the way to the edge of the heart.  You will want to leave room for the top heart to attach to the bottom heart.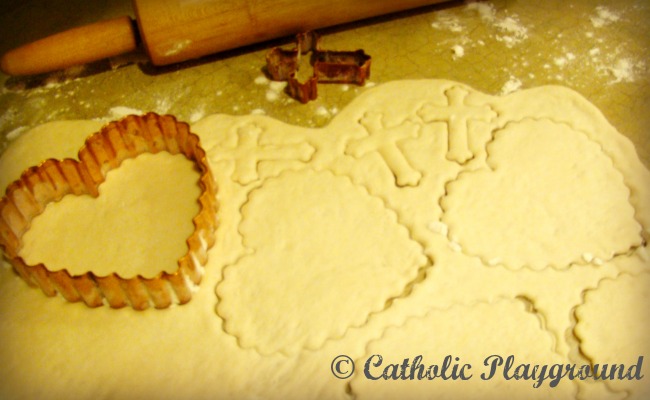 When your toppings are in place on the bottom heart, put another heart on top and firmly crimp the edges with a fork.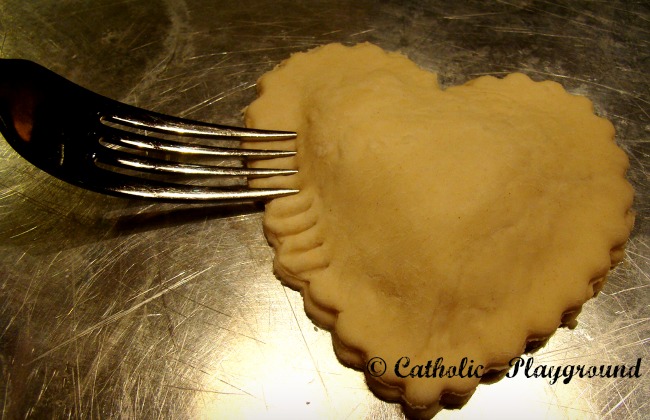 Beat an egg and brush over the top of the heart. Then, place the cross in the center of the heart and brush the beaten egg on the cross as well.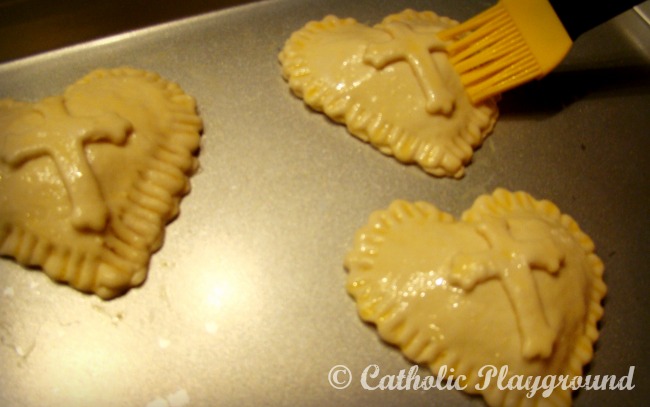 Bake in a 350 degree oven for 10 minutes or until calzones are golden brown.