Patchwork soup recipe
Who doesn't love soup on a chilly day?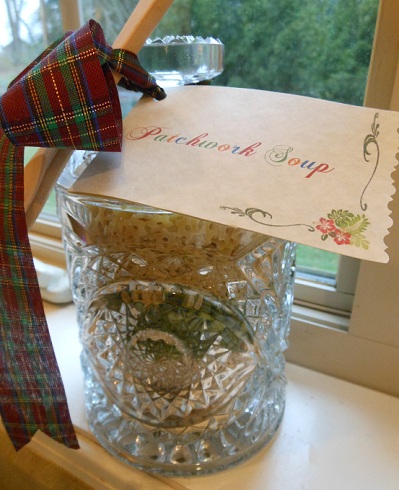 This is a fun soup with a great flavor that is SO easy to make! It's also a perfect jar mix gift-giving. Or, turn dinner into a special occasion with this tasty new recipe!
Follow the directions below for assembling and cooking your patchwork soup.
(To prevent the bay leaves from ending up in your dad's soup bowl, remove before serving 🙂 )
Enjoy!
Ingredients
Recipe makes 16 servings
1/2 cup dry split peas
1/3 cup beef bouillon granules (or 12 bouillon cubes, crushed)
1/4 cup pearl barley
1/2 cup dry lentils
1/4 cup dried onion flakes or 1 pkg. onion soup mix
2 teaspoons dried Italian seasoning
1/2 cup uncooked long-grain white rice
4 bay leaves
1/2 cup uncooked stelline (star-shaped) pasta
Directions

1. In a 1 quart jar, layer the split peas, bouillon, barley, lentils, onion flakes, Italian seasoning, rice, and bay leaves. Wrap the pasta in plastic wrap, and place in the jar.
2. Attach a label to the jar with the following instructions:
Patchwork Soup
Additional Ingredients:
1 pound beef, cut in 1 inch cubes
pepper to taste
1 Tbsp minced garlic
1 14.5 ounce can diced tomatoes
2 15 ounce cans tomato sauce
3 quarts water
TO PREPARE SOUP: Remove pasta from top of jar, and set aside. In a large pot over medium heat, brown beef with pepper and garlic. Add diced tomatoes, tomato sauce, and water and pour in contents of the jar. Bring to a boil, then reduce heat to low. Cover, and simmer for 45 minutes. Stir in the pasta, cover, and simmer 15 to 20 minutes, or until the pasta, peas, lentils and barley are tender. Remove bay leaves before serving.