Mint brownies in a jar
Not only do they taste great, but the mix looks so pretty in a jar!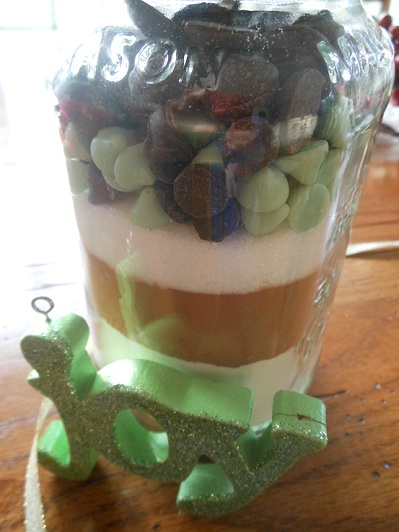 We altered this recipe slightly to include these limited edition dark chocolate and mint chips. Though you could give this mix-in-a-jar gift anytime of the year, we decided to make it a Christmas gift for a relative who loves mint brownies, but doesn't always have all the ingredients on hand to make them.
The only ingredients the recipient will need to have on hand are butter, eggs, and vanilla.
Enjoy!
Ingredients:
1 1/4 cups flour
1 tsp. baking powder
1 tsp. salt
2/3 cup cocoa
2 cups sugar
1 1/4 cup dark chocolate and mint chips*
Combine flour, baking powder and salt. Pour in quart jar. Layer remaining ingredients in the order listed. Press each layer firmly in place before adding the next layer. NOTE: You may need to wipe the inside of the jar with a dry paper towel after adding the cocoa powder.
Attach a tag with the following instructions: Mint Brownies in a Jar 1. Preheat the oven to 350 degrees F (175 degrees C). Grease a 9x13inch baking pan. 2. Empty jar of brownie mix into a large mixing bowl and stir to blend. Mix in 1 cup softened butter, 3 eggs and 1 tsp. vanilla. Mix thoroughly. Spread batter evenly into prepared baking pan. 3. Bake for 25 to 30 minutes or until done.